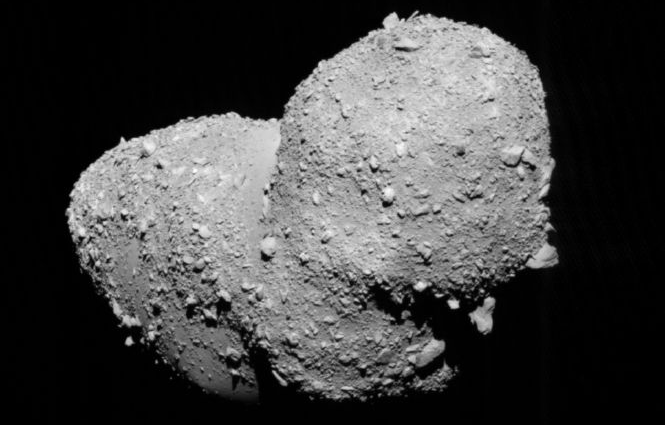 Global Space News: Asteroid Itokawa hints at an additional source for the Earth's oceans
All life on Earth requires water, making the oceans that stretch across roughly 71% of our planet's surface an essential component to our home world's habitability. The mechanism by which the Earth acquired water is therefore key to understanding how habitability can develop on a planet.
Missions such as Hayabusa2 and the up-coming Martian Moons eXploration (MMX) mission are dedicated to mapping how ices may have been transported from their formation in cold outer Solar System to the temperate orbits of the terrestrial planets. This delivery system would consist of asteroids and comets striking the young Earth and offloading their watery burden onto our planet.
Now, an additional source of water has been suggested that is created by the stream of particles of hydrogen from the Sun known as the solar wind. In a paper published in Nature Astronomy last year, it was reported that water was produced when the solar wind strikes dust grains. Evidence for this process was found in the sample from asteroid Itokawa, collected and returned to Earth by the first Hayabusa mission in 2010. The result not only offers a new delivery mechanism for water reaching a rocky planet, but also underscores the value of sample return missions.
For Professor Usui Tomohiro, who oversees the Astromaterials Science Research Group at JAXA that is charge of curating the samples from the Hayabusa missions and MMX on the spacecraft's return to Earth, the possibility of different options for a planet's water is an intriguing twist on our understanding of habitability.
The fact that this discovery was made with the sample from Itokawa is of particular interest to Professor Tsuda Yuichi, Project Manager of the Hayabusa2 Mission. Itokawa is an S-type (stony) asteroid, which is thought to have undergone significant changes since the start of the Solar System. By contrast, the destination of Hayabusa2 was the C-type asteroid, Ryugu. Ryugu is believed to be a pristine sample whose composition reflects the material present in the Solar System during the formation of the Earth. Together, the asteroids provide clues as to how Solar System materials formed and evolved.
---
"Global space news" is a chance for us to highlight important developments across the world and share our excitement of these achievements.
Special thanks to Dr Kate Kitagawa for sharing this news story with us.
Further information:
"Solar wind contributions to Earth's oceans", Nature 2021
Hayabusa2 Mission
Martian Moons eXploration Mission
Creating water simply on the surface of a celestial body (ISAS press release)